WHAT KIND OF FABRIC IS GOOD FOR SPORTSWEAR?
WHAT KIND OF FABRIC IS GOOD FOR SPORTSWEAR?
In today's world, the sportswear market is flooded with a wide variety of clothing items for every sport and environment. And why not? It's trendy and comfortable. Thus, you look good, you feel good!  When it comes to custom sports apparel, one of the most important considerations should be the material, as the appearance and feel of the garment can produce dramatically different results. If you want to start your own business on sportswear you will be easily confused about which fabric is best for sportswear embroidery projects. That is because you will face a variety of choices. 
In this case, a clothing manufacturer in Bangladesh can be your reliable choice.  Because they can give you the information about fabrics you need. Also, in this blog, you will learn about the types of fabric you can use for sportswear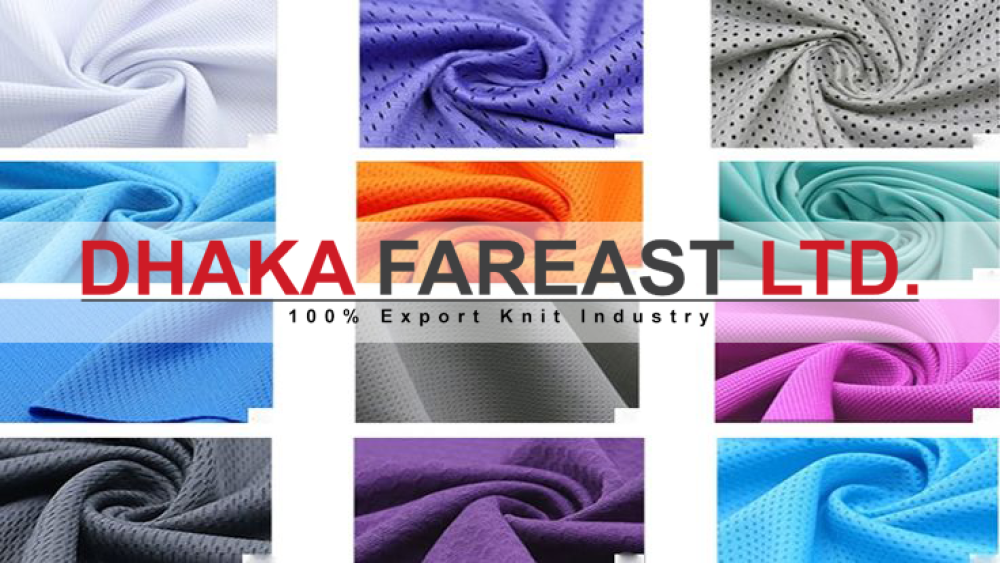 Calico
Calico is a kind of cotton. It is a raw version of cotton that is just as soft. As a result, it's a good choice for clothes that are meant to be worn while exercising. Calico is also good for the environment because it doesn't harm the environment. Any clothing manufacturer exporter may choose this fabric for sportswear production.
Microfiber
Clothing manufacturers in BD use microfiber because it is made of small thread fibers with a linear density of not more than one denier. This means that microfiber has threads that are 100 times finer than human hair, which is why it is so soft. It is not a natural thing, but a man-made thing. Microfiber, on the other hand, is a pricey material and is often used in branded activewear. Dhaka Fareast, a clothing exporter from Bangladesh has worked with reputed clients before. So your products will be in safe hands. 
Cotton 
Cotton used to be thought of as a material that didn't get wet, so it wasn't good for wearing when you did a lot of physical activity. If you want to keep your clothes fresh, you should look for cotton sportswear because it is breathable and doesn't hold on to odors. However, when it comes to quickly absorb sweat, cotton still has a long way to go. For affordable cotton clothing, you can reach wholesale clothing manufacturers in Bangladesh. 
Synthetic
In order to make the lives of people who play sports easier, synthetic sportswear was invented. Rubber and plastic sportswear were used to make people hot, so synthetic sportswear was made. Synthetic material can be used for more than just clothes. It can also be used for things like knee and elbow bands. These clothes are made of a material that is breathable and quickly wicks away sweat to keep you cool, so they stay dry.
Bamboo fiber
Bambo fiber is another natural material for sportswear that is good for the environment because it is made from plants. Bamboo fiber is very light in weight and is good at wicking away moisture, making it good for sportswear that doesn't make you smell bad when you sweat. Bamboo fiber also protects you from the sun's rays when you play outside. That made a clothing manufacturer in Bangladesh choose this fiber for sportswear clients. 
Polyester
Polyester is another type of material that is used in a lot of sportswear. In simple terms, it is a type of cloth made from plastic fibers. This makes it very lightweight and wrinkle-free, as well as breathable. If you sweat, this cloth doesn't take it in and let it dry on its own, so it doesn't take in your sweat. Another good thing about polyester is that it can keep the heat out. This makes it a good choice for both hot and cold weather. So, the wholesale clothing manufacturers in Bangladesh vastly use polyester in sports wares. 
Nylon
A lot of people like nylon because it is very soft and can dry very quickly. When you sweat, nylon also helps it evaporate quickly, which is good for your body. As a bonus, nylon is also resistant to mildew. This makes it last longer. Also, nylon has a lot of stretch and recovery power.
You will find more variety in Dhaka Fareast LTD, a leading clothing wholesaler exporter.
Polypropylene
Polypropylene is a fabric made of plastic. When sweat comes out on the outside of your clothes, this fabric is completely waterproof. This means that even if sweat comes out on the outside, your clothes won't get wet from the inside. This material can be used on its own or as a base layer with another material.
X-Static 
A metal called X-Static is used to make things that aren't going to fall apart. This fabric has silver particles in it because the fibers have been made with silver particles. Silver is a metal with antibacterial properties that stops bacteria and fungus from building up. X-Static sportswear. On the other hand, it is clean and odor-free even after a lot of use.
Wool
Good sportswear fabric is wool in places where the weather is cold, such as in the north or the south. Keeps you warm: The fibers in woolen fabric trap heat and keep you from getting cold. Wool is breathable, which makes it a good choice for sportswear because it doesn't get smelly.
A clothing manufacturer in Bangladesh would be able to provide you with the high-quality knitted fabric you need. 
Gore-Tex
In addition to making jackets and running shoes, Gore-Tex is also used to make other types of sportswear, like shirts and pants for sports. To make sportswear waterproof and airy, a layer of fabric is usually put on top of the clothes to make them more durable. Even though this is true, it is still good material for high-intensity sports. It keeps the wind and water outside, but the sweat can evaporate. This material, therefore, is a good choice for windsurfers.
Final words
Sportswear isn't made out of just one material, but there are a lot of different options. You can even go green while you play sports or work out. You could also have your sportswear made to look like your own clothes. For better clothing contact top clothing manufacturers in Bangladesh.
Lorem ipsum dolor sit amet, consecte adipiscing elit, sed do eiusmod tempor incididunt ut labore et dolore